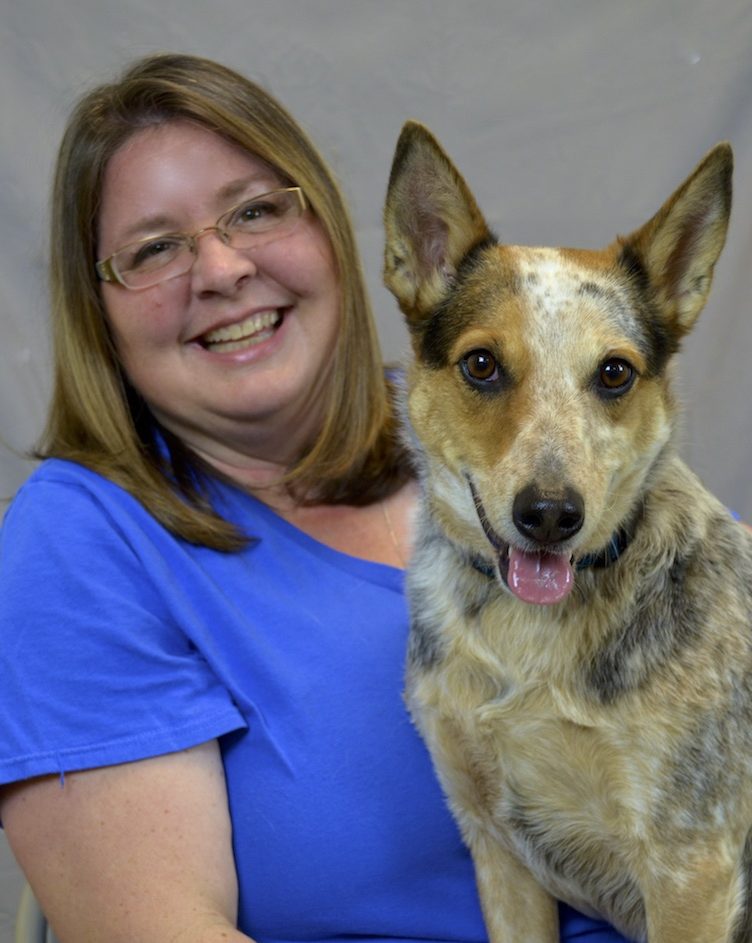 Chris Lantzer, BA, CPDT-KA
Chris is the owner of Woof Wise Dog Training.  Her goal is to help dogs stay in their homes and help people and dogs live happily together! She would like everyone to experience the same joyous bond she treasures with her dogs developed through training.  Chris is a Certified Professional Dog Trainer–Knowledge Assessed through CCPDT with over 15 years experience.  She has studied under America's best behaviorists and trainers including Patricia McConnell, Jean Donaldson, Pat Miller, Kathy Sdao, Sophia Yin DVM, among others.  Chris is a professional member of the Association of Pet Dog Trainers, and an American Kennel Club (AKC) Canine Good Citizen Evaluator.
A graduate of the University of Akron with a bachelor's degree in English she left a career in Human Resources to be able to spend more time with her dog, Pumpkin, who had separation anxiety. Pumpkin, an adorably awesome orange and  white herding mix rescue  was one of her best teachers.  He taught her much about play biting, resource guarding, separation anxiety 
but more importantly lessons of loyalty, forgiveness, perseverance, courage, kindness and love.  Pumpkin was a well mannered pet with several obedience titles and an impressive list of tricks—including a hot dog retrieve!
Chris currently shares her life with her amazingly patient husband and adult rescued Australian Cattle Dog she calls Winny, who is as charming as she is smart.   Winny is rounding out her real life, experiential education teaching her about living with a fearful and reactive dog and how trust and adult dog relationships are developed.  Within her first 6 months of adoption Winny earned 2 trick titles and her first CWAGS obedience title and is continuing on.  There is so much more to learn—always!  Continuing education units are not only required to maintain her CPDT certification but are relished and always exceeded.
Ann Worden, VSA-CDT-Online
Ann is a 2020 graduate of the Online Dog Trainer course at Victoria Stilwell Academy but has been involved in dogs far longer.  Over the years, Ann has continued to learn from seminars and workshops with Steve White, Patricia McConnell, Ian Dunbar, Deb Jones, Grisha Stewart and Ken Ramirez. She also completed Karen Pryor's online Dog Trainer Foundations course, and frequently attends various webinars and conferences such as Clicker Expo.  Ann retired in 2018 after a long career in IT, giving her time to pursue her long-standing interest in becoming a professional dog trainer to help others.
In 1995 she adopted Buddy, a Golden Retriever.  Back then she was told to use aversive methods and she found herself with an unruly adolescent she couldn't stand.  Once she discovered positive training, everything changed, their relationship blossomed, and they eventually earned an AKC Open Obedience title.
Since then, Ann has lived with three goldens, a mutt, and a border collie. Two were successful competition dogs, and the rest taught Ann about living with reactivity and/or chronic health problems.
Her current dogs are Roxy, a 12-year-old border collie who has earned obedience and rally titles in AKC and C-Wags; Bode, a an adolescent golden destined to be her next competition and therapy dog; and Bart the Miniature American Shepherd, who is teaching her more than she thought possible about fearful, noise sensitive, and reactive dogs.
All of Ann's dogs except Buddy have been rescue dogs.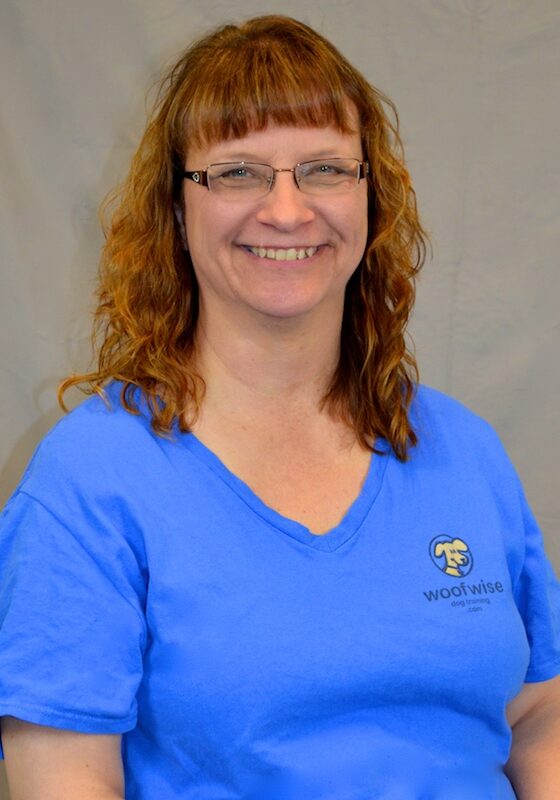 Tina Geffert, CCDT, CPDT-KA
Tina's volunteer work as a docent at the Cleveland Metroparks Zoo is what inspired her to pursue her training certification.  After watching how zookeepers applied the principles of positive reinforcement to set some very large, strong, and wild animals up for success when doing animal husbandry, she thought, "We can certainly do this with dogs too!"
Tina actively volunteers at a community dog shelter.  She mentored with Woof Wise Dog Training and has been teaching there since 2015.  Tina is a graduate of the CATCH Canine Training Academy,  a Certified Professional Dog Trainer- Knowledge Assessed through CCPDT, a member to the Association of Pet Dog Trainers, and an AKC Canine Good Citizen Evaluator.  Her dearly departed dog Toby, a Siberian Husky, taught her much and assisted her with her studies.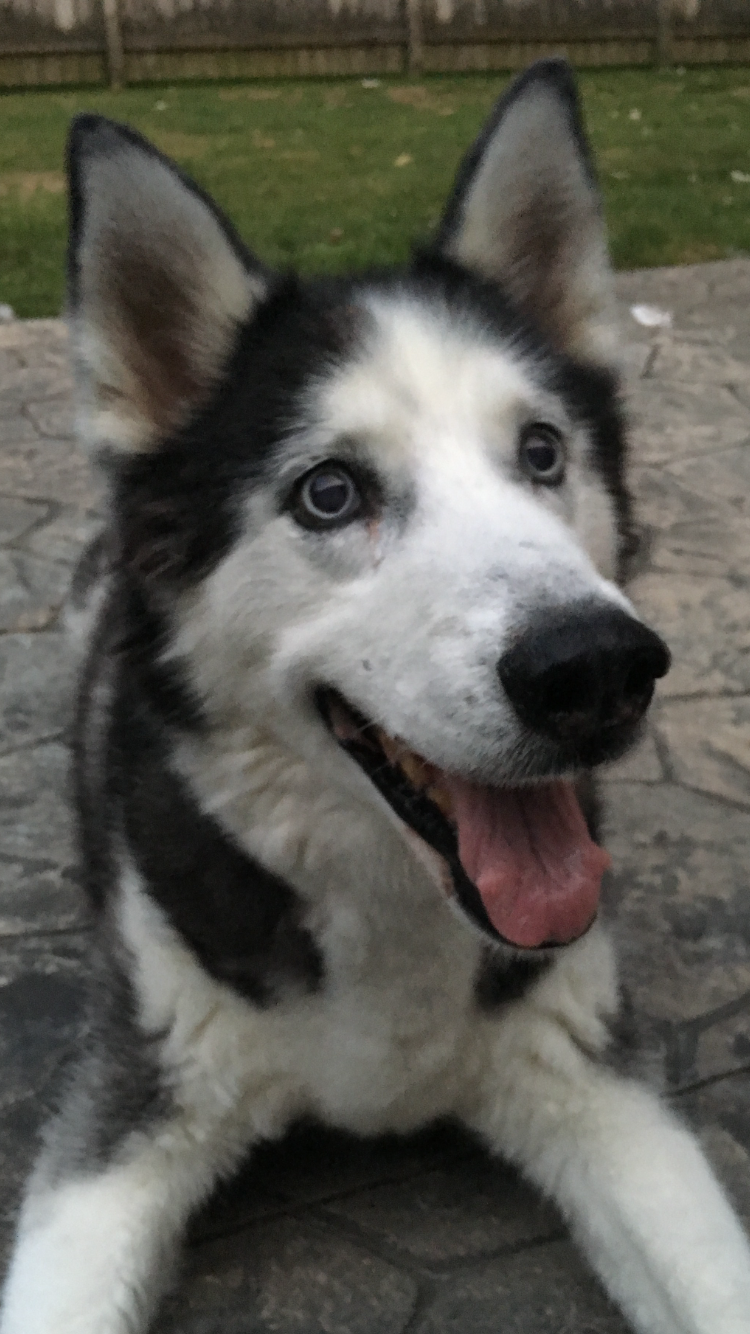 Erin Norton, BA
Erin is a graduate of Baldwin - Wallace with a double major in Sport Management and Exercise Science with a minor in athletic coaching.  Her strive for fulfilling human potential goals through structured exercise, motivation and a keen eye for movement help her immensely in coaching the human-canine team.  Erin is currently apprenticing with Woof Wise Dog Training and is pursuing her Certified Professional Dog Trainer-Knowledge Assessed certification through CCPDT.
Erin has always been an avid animal lover though unable to have pets growing up due to family allergies.  She pursued her passion volunteering at the Lake Erie Nature and Science center where she got to work with a wide variety of species as well as volunteering at local animal shelters and with a local therapeutic horseback riding program and more.  Her dream came true as a young adult when she adopted her first dog, Gator, a one year old Australian Cattle Dog from a shelter.    She was frustrated and confused by her sweet boy's behavior issues. Erin and Gator began taking classes at Woof Wise Dog Training to help understand each other.   Erin truly believes that difficult dogs are the best teachers and her best friend has taught her a lot!
Erin enjoys painting, hiking, working out and of course spending time with Gator and her cat, Alli.
Ready to try a group class?
Learn more about our classes and sign up today!